219.877.5096
Thank you for visiting WhiteArc Smokers.
We are manufacturers of smokers and bbq grills.
We use simple designs that provide you with outstanding cooking performance without the high cost.
Whether you are smoking meat, fish or poultry, our smokers will provide you with the best flavors possible. If you can prepare the meat, our smokers or grills will provide you with the cooking atmosphere that you need.

At WhiteArc Smokers we build smokers and bbq grills for customers all over the US.
We only use brand new barrels. We only use new mild steel or stainless steel components.
We never use galvanized products.
If you need a smoker or grill give us a call or email.
We can make the unit according to your specifications or you can choose one of our designs that will help you fulfill the cooking you desire.
You can contact us day or night by either phone or email.
To contact by phone 219-877-5096. If no one answers please leave your name and phone number. We will contact you as soon as possible.
To email us:
customersvc@whitearcsmokers.com
Our product List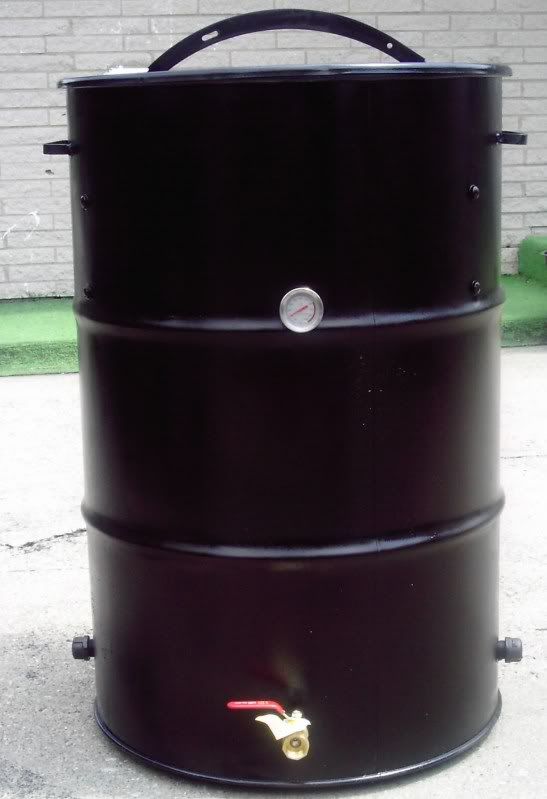 Basic Smoker 1
This is my basic "Ugly Drum Smoker". I personally use and own a few of these smoker's at my home and love the consistent results this smoker puts out.Our smokers start life as a food grade barrel.

This unit has one (1) cooking rack. There are additional levels for the rack or racks. You can add a water pan on the bottom level adjustment. The charcoal basket will hold approximately 15lbs of charcoal and wood. There is an ash catcher at the bottom of the basket to collect burned ashes. You can cook for approximately up to 12 hours on one load of charcoal and wood. You can control the temperature at 225-250 degrees. Three (3) Intake vents are placed for good temperature control. There is a thermometer for maintaining the proper cooking temperature.

Three (3) large handles are placed on the smoker as well, one on the lid and one on each side of the smoker for easier transportation of the smoker. (NEVER move a hot smoker!) The lid includes a hook on the under-side so that you can hang it on the side of your smoker when adding/checking/removing your food so that you are not setting the lid on the ground or other dirty surface.

All intake/exhaust holes come with a screw-on cap to cover them and shut down the fire to save any remaining fuel for your next BBQ.
The smoker then undergoes two coats of black high-temp paint. The smoker is ready to cook as soon as you get your hands on it… WARNING: Once you share the BBQ that comes off this smoker with family and friends be prepared to cook at all future birthdays, reunions, and other events! DON'T LOAN OUT YOUR SMOKER. YOU MAY NOT GET IT BACK. HAVE THEM GET THEIR OWN SMOKER.
The basic smoker 1 sells for $190.00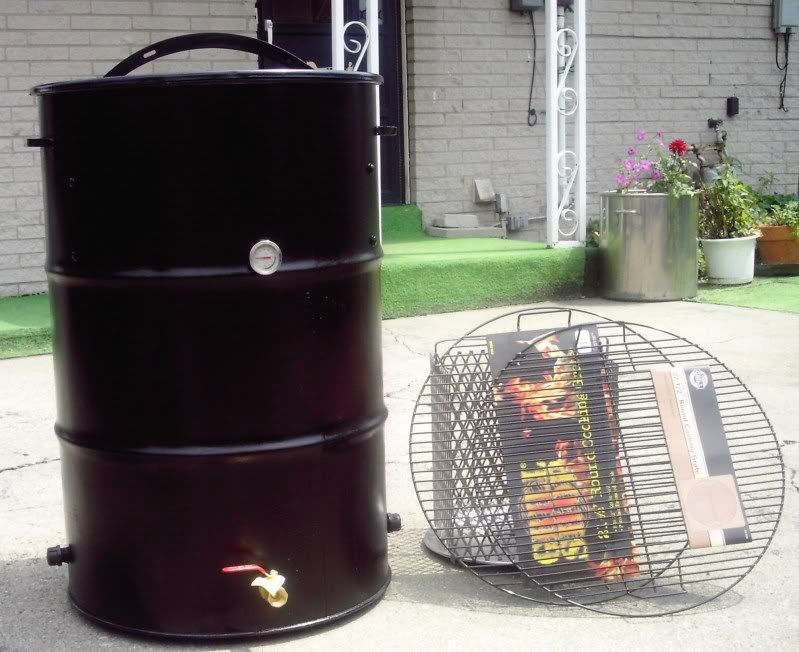 This smoker is the same as our basic model except that it has 2 cooking racks and is equipped with wheels for easy mobility.
The Deluxe Smoker 1 sells for $225.00
The Charcoal FireBox
This is my charcoal firebox. It will hold approximately 15lbs of charcoal and wood chunks. It is made from heavy gauge expanded metal. It has an ash catcher attached to dump the ashes after cooking. The unit weighs approximately 20lbs.
This unit sells for $35.00
Basic 55 Gallon Drum Grill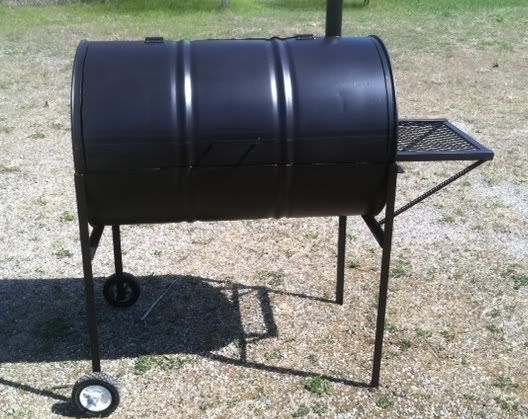 This is the basic 55 gallon drum grill. It offers a large cooking surface for everyday grilling.
$155.00 pickup
$155 + delivery
Deluxe BBQ Grill
This is the deluxe grill. It has large cooking surface, warming rack, wood shelf and thermometer.
$185.00 pickup
$185 +delivery
Double Drum Grill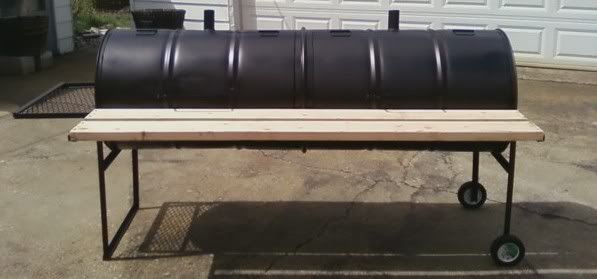 This is the Double Drum Grill. This unit will cook a lot of meat for your big cooking needs. This grill has an upper level above the cooking surface. This unit is very heavy duty for cooking at fairs, flea markets and festivals.
This unit sells for:
$350.00 pick up
Mr Shorty Grill
This is Mr Shorty Smoker for those who want a grill but not the big 55 gallon drum. This grill will cook just like the big unit but is a lot smaller for those tailgate parties. It will fit in the back seat of your car or truck.
Priced at $ 75.00
What some of our customers have said about our smokers.
Clinton, hope all is well with you. Just wanted to let you know all is working out well with the drum smoker.
Last weekend I entered an amatuer rib competion and took first place with my ribs cooked on the drum out of 39 teams.
Yesterday I was in a full KCBS and took 1st for ribs, 6 for chicken, 8 for pork, and 18th for brisket.
Third place overall out of 32 teams!!!!!
All but the chicken was cooked on the drum, I need to practice cooking on mutlple levels in it.
I had at least a dozen people come over to check it out and I gave them your name and told them to
check you out on EBAY. Thanks again and I'm having a blast with it!!!!
D Catris
Clinton,
Just a note to let you know that we have been using the barrel smoker we purchased from you in competitions. We think we have the right combinations of charcoal, wood, times and temperatures down. The barrel holds 250* temps perfectly for a long period of time.
We competed this past weekend and finished 1st in ribs and 3rd in chicken and pork. We screwed up the brisket though [our fault not the barrel's]. We finished 3rd overall. If not for the brisket, we would have been GC.
Thanks again,
J Burke
[Baldwin Butt Burners]
KICK Ass BBQ grill/smoker
Clinton, I wanted to write and thank you for all of the hard work and effort you put into making my custom BBQ Grill/Smoker trailer. I along with my BBQ crew servedf over 500 people at a recent benefit for a fallen Marine. We served 360 lbs. of pulled pork, 500 burgers, and 350 hot dogs. With help from the custom grill that you built, no one went hungry. You make an excellent product using your superb craftsmanship. We sing your praises when people ask about our grill trailer and direct them to whitearcsmokers.com
Thanks again!
JP Roe
Sincerly,
Clinton Parker